Anti-static shoes also called anti-static work shoes, static shoes, anti-static shoes can be static from the human body to the earth, anti-static shoes to eliminate the body of static electricity, but also effectively inhibited the dust generated by the people walking in the clean room .
Anti-static shoes are a type of work shoes that are used to reduce or eliminate static electricity hazards in production workshops and advanced laboratories in the microelectronics industry such as electronic semiconductor devices, electronic computers, electronic communications equipment, and integrated circuits. In the daily use of anti-static shoes, pay attention to its use.
1. Anti-static shoes and conductive shoes should not be worn at the same time with insulated wool thick stockings and insulated insoles. Use of anti-static shoes as insulating shoes is prohibited.
2. During the wearing process, the resistance test should be performed once for no more than 200 hours. If the resistance is not within the specified range, it cannot be used as anti-static shoes. Antistatic shoes require that the resistance be between 100K ohms and 100M ohms.
3, anti-static shoes should be used in conjunction with anti-static clothing, pay attention to product cleaning, waterproof, moisture.
4, the use of anti-static shoes should be the site of anti-static ground, the use of conductive shoes should be conductive ground, to achieve a good.
How to choose anti-static shoes
1, choose a suitable variety
According to the different places to wear, choose different anti-static shoes. In general, the withstand voltage is 15kV
The following electrically insulated leather shoes and electrically insulated cloth shoes are suitable for 1kV power frequency voltage
The following operating environment; withstand voltage 15kV
The above electric insulating rubber boots and polymer boots are suitable for power frequency voltage 1kV
The above operating environment. In addition, when working with electrically insulating shoes and electrically insulating cloth shoes, the working environment should keep the upper dry.
2, choose a reliable product
Electrically insulating shoes are special labor protection articles and implement the industrial product production license and safety mark certification system. When purchasing,
First, it should be confirmed whether the manufacturer of the product has a national industrial product production permit (imported goods do not need) and safety certification mark. On this basis, check whether the product has the name and address of the manufacturer, the production license number of the industrial product, the certification number of the safety mark, the date of manufacture, the standard number executed by the product production, and whether the product certificate and instruction manual are attached. Pay special attention to see if there is a product name (or "electrical insulation" or "EH"), lightning mark, shoe size and withstand voltage values ​​on the shoe. In addition, the distributor should be required to present the inspection report of the batch of goods, as well as the production license (imported goods without this license) and safety mark certification of the goods manufacturer, and check the validity period, and ask the dealer to provide the two materials. Copy.
3, view the appearance quality
You can check if the helper has any disability, color difference, needle reversal, needle skipping, broken thread, and uneven stitching; whether the bottom is open or off; if there is oversulfur, undersulfur, sulfur spray on the sole. ;and many more.
4, the use of precautions
Wear any anti-static shoes should avoid contact with sharp, high temperature and corrosive substances to prevent the shoes from being damaged and affect the electrical properties. Where there is corrosion and damage at the bottom, it can no longer be used as an anti-static shoe.
Description
Temporary Fence Also called temporary fence brace or stay used to support the temporary fence panel in
high wind area finish by hot dipped galvanized 42 microns thickness,per stay required two fence clamp and
three concrete feet the additional strength to secure fence panel stand well in high wind per 4.8meter or7.2 meter one stay live.

Specification
Panel: 2400mm*2100mm
Wire diameter: 4mm
Mesh size: 150*60mm
Pipe: 32mm*2mm
Hot-dipped galvanzied
Weight: 25kg
Panel size
2400mm(L)×2100mm(H),2100mm×2500mm
2100mm(H)×2650mm(L),2000mm(H)×3500mm(L)
Frame post
25mm,32mm,40mm,42mm,48mm
Infill mesh
2.5mm-6mm horizontal, 2.5mm-6mm vertical
50x50mm,50x100mm,50x200mm,75x150mm,60*150mm,50*150mm,100x300mm
Finish
pre-hot-dipped galvanized wire and tube then welded,or hot-dipped after welded

Application
Temporary Fencing to secure construction sites and private property;
Temporary fencing for major public events, sports, concerts, festivals, gatherings, swimming pools and other usages
Temporary fencing of residential housing sites;

The feet are removable which makes transportation and storage much easier and more efficient.
Advantage
Environmentally friendly
The temporary fences is perfect for all surface as there are no holes to dig or repair.
Convenient
1. Temporary fences with chain link fence panels are a quick and convenient solution for a location or job site enclosure. Should access be required to anysection of the site
2. It is easily achieved by removing the appropriate panels, and either replacin the panels or adding extra panels when required.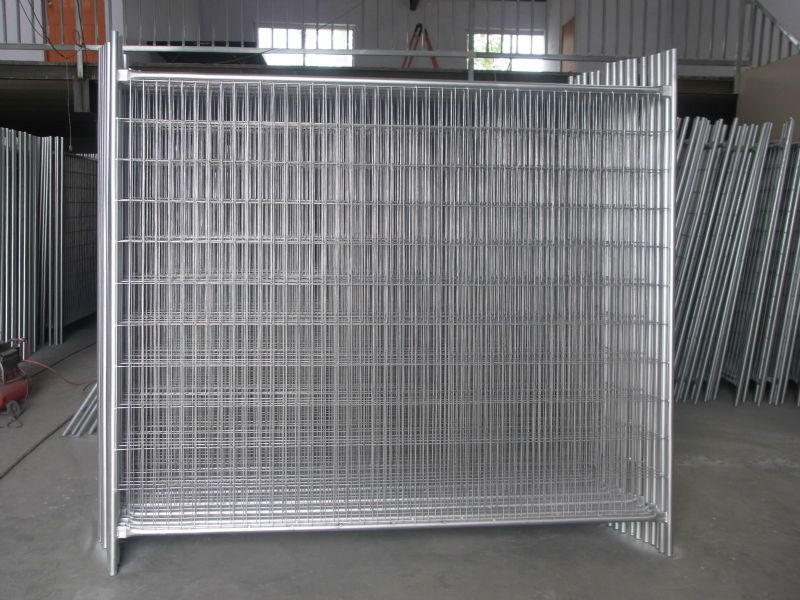 Temporary Fence
Temporary Fence,Temporary Fencing,Temporary Construction Fence,Temporary Site Fencing
Anping Shengjia Hardware Mesh Co.,LTD , https://www.oilshaleshakerscreen.com