NYP series stainless steel high viscosity pumping high-viscosity resin, polyurethane, mystery, polyethylene, and similar high-viscosity material; particularly suitable for high viscosity consistency medium; pump head, pump housing, seal chamber portion can be interposed with insulation set. According to the actual needs of the need to select the location of insulation; jacket and pump body cast into one, the insulation effect is good, to avoid welding jacket produced a variety of problems; to be heated: through the hot steam, thermal oil and other heat medium access Jacket. ● NYP series stainless steel high viscosity pump advantages: (1) delivery of liquid smooth, pulsation, vibration, low noise. (2) has a strong self-priming performance. (3) The correct selection of parts materials, can transport a variety of corrosive media, the use of temperature up to 300 ℃. (4) the same internal and external rotor rotation, wear small, long service life. (5) pump speed and flow rate as a linear function, may be appropriate to change the speed to change the pump flow. (6) Particularly suitable for high viscosity medium transport. ● Overview of high viscosity pump NYP series stainless steel: NYP series internal gear pump is based on the needs of the petroleum, chemical, paint, oil, pharmaceuticals, dyes, food and other industries, developed a new type positive displacement pump, because the product can choose different Material and its unique structure, it is widely used in different nature, different viscosities of the media. Medium temperature: -10 ℃ -200 ℃ applicable medium viscosity: 1.0cSt-300,000cSt ● NYP series stainless steel high viscosity pump structural features: (1) works with inner teeth drive gear (outer rotor) driven by the inner rotor in the whole The closed pump body rotates in the same direction, the pump body and the front cover of the crescent so that the inlet and outlet separated. Negative pressure is formed at the suction port during rotation, the liquid is sucked in, the liquid is taken to the discharge port by the rotor, and the liquid is discharged under pressure to complete the liquid delivery. (2) Structure The series of high viscosity pump mainly consists of internal and external rotor, shaft, pump body, front cover, bracket, seal, bearing and so on. Seal mechanical seal and packing seal in two forms, for high temperature, high viscosity and corrosive media, the choice of packing seal (special requirements, optional magnetic drive, zero leakage structure). When conveying the easily-crystallized material, a thermal insulation jacket can be designed on the front cover and the pump body, and steam is used to heat and melt when working. Pump can be equipped with safety valve, when the pump or piping system overpressure, the safety valve opens, the formation of internal reflux, to ensure system safety. Pump unit consists of pump, motor and base. There are two ways of transmission bridge and direct connection.
Gutter Cold Roll Forming Machine
The components of Gutter Cold Roll Forming Machine: uncoiler, the feed leading table, the main machine, the formation cutting device, hydraulic system, control system and the product bracket.
The technical of gutter cold roll forming machine:
(1) Manual decoiler
Un-powered; Single head;
Max. Capacity: 5000kg;
Coil inner-diameter: 508mm
(2) Roll-Forming M/C:
Roller Material: 45# steel
Voltage: 380V/50Hz
(3) Cutting Mechanism
It adopts hydraulic drive and automatic location to decide the dimention and cut the target products.
Match equipment: One set of cutting tool, one hydraulic tank, one cutter machine.
Stop to cut, Post cut cutting length tolerance: ± 2mm
Cutting tool material: GCr12 with quenched treatment 60-62° C

(4) Hydraulic System
It is controlled by gear wheel oil pump. After filling the hydraulic oil into the hydraulic oil tank, the pump drive the cutter machine to begin the cutting job.
Match equipment: A set of hydraulic tank, a set of hydraulic oil pump, two hydraulic pipes and two sets of electromagnetism valves.
(5) Computer control cabinet:
It adopts Taida PLC to control. The target piece length is adjustable and digit of it can be adjusted
Computed mode has two modes: Automatic and manual one.
(6) Counter:
One counter gauges length, pulses, and decides length
(7) Output table
It used to load the forming plate
Description of gutter cold roll forming machine:
Thickness of material: 0.3-0.8mm
Main structure:300H steel
Wall plate: 16mm
Electric motor power: 4KW
Diameter of shaft: 52mm
Roller: 15rows
Forming speed: 12-15m/min
Material of Rollers: Cr12
Cutting type: Hydraulic shearing
Motor: 380V, 50HZ/3 phase
Hydraulic motor: 3KW
Size of machine: 6.5m*0.6m*1.2m
Warranty: 12 months limited warranty
Delivery: 30 days after receipt of advance payment
Package: Plastic packing and nude in the container
Payment Term: T/T, L/C, Trade assurance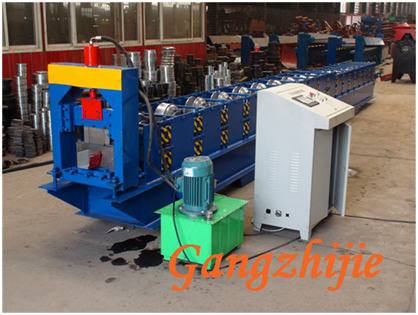 FAQ:
1. Q: Are you a manufacturer?
A:Yes, we are manufacture with Roll Forming Machine factory.
2. Q: How should I do if I would like to order my target machine?
A: Just send us your design drawing if you have. Or tell us your design idea. We arrange our engineer to drawing it for your confirmation.
3. Can you use other brand of spare parts for me if i want?
A: No problem if you want to pay the money.
Gutter Cold Roll Forming Machine
Gutter Cold Roll Forming Machine,Small Gutter Cold Roll Forming Machine,Gutter Cold Rolled Forming Machine,Cold Roll Forming Gutter Machine
Shijiazhuang Zhouming Steel Building Materials Co., Ltd. , http://www.zmsteels.com