Transport Package:
Each with Individual Packing
Origin:
Jingjiang, Jiangsu
Product Details
Basic Info.
Name: Stun Gun
Material: ABS
Length: 118mm
Height: 28mm
Width: 46mm
Export Markets: Global
Additional Info.
Trademark: Redon
Packing: Carton
Standard: CE, RoHS, ISO9001
Origin: Jingjiang, Jiangsu, China
Production Capacity: 3000 PCS Per Week
Product Description
Stun Gun
1) Unique design, colourful
2) CE certification
3) ABS Engineering plastic
4) convenient to carry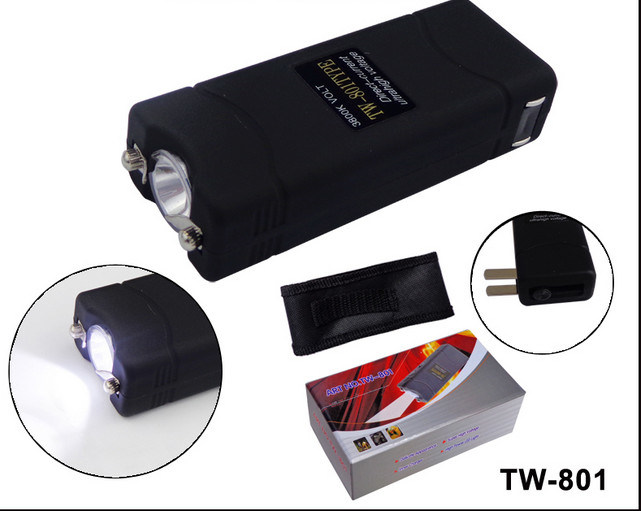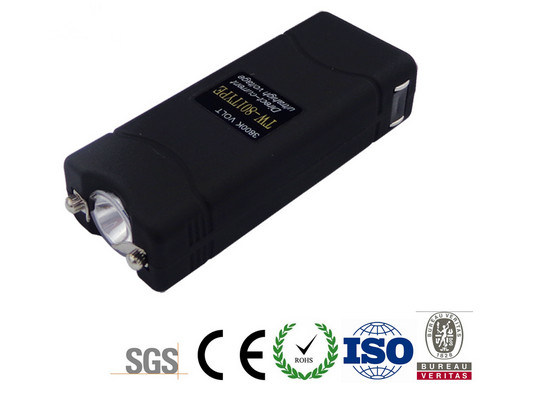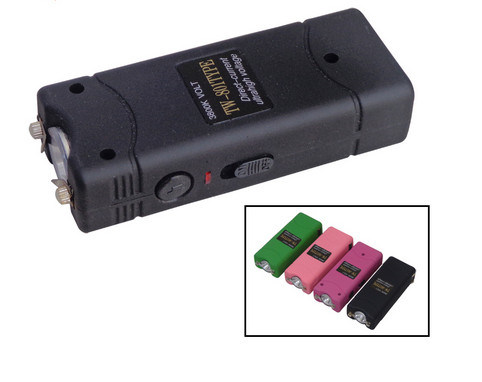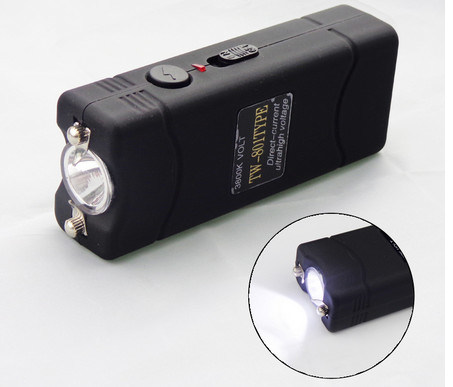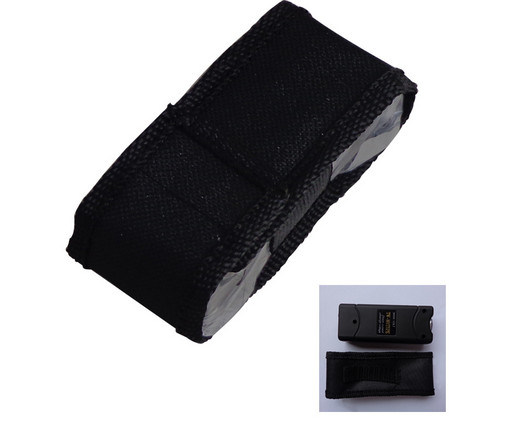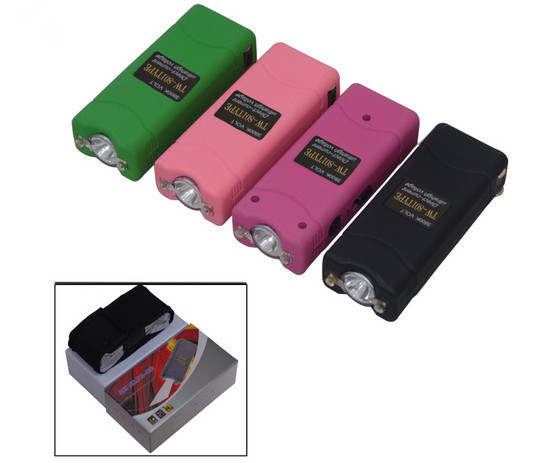 Product Details:
A Stun Gun is an electrical self-defense device that uses high voltage to stop an attacker. Touching a person with the prongs on the Stun Gun quickly immobilizes the attacker. However, because the amperage is very low, no serious or permanent injury is inflicted.
Stun Guns are designed to key into the nervous system. They dump their energy into the muscles at a different frequency than the pulse waves emanating from the brain. The pulse waves coming from the brain and those from the stun gun collide at the nerve synapse' which is a type of complex processing switch adjacent to each muscle group. The resulting energy collision makes it difficult for an attacker to move and function. This causes disorientation and loss of balance and leaves the attacker in a passive and confused condition for several minutes. Still, stun guns have no significant effect on the heart and other organs.
As a general rule, a one-half second contact from a stun gun will repel and startle the attacker, giving some pain and muscle contraction. One to two seconds will cause muscle spasms and a dazed mental state. Over three seconds will cause loss of balance and muscle control, mental confusion and disorientation.
However, don't think about how many seconds you should hold the Stun Gun to your attacker. Think about it this way. Throw out what the books say and the online information you have read about Stun Guns. You should hold your stun gun to the assailant until they drop and you can get away and call the police, whether that may be one second or six seconds.
The electrical shock that emits from the stunning device will not pass from the person being stunned to the person doing the stunning. The effect is localized only in the affected area and does not
Product Description:
Self-defensive stun guns is mainly consist of high voltage generator,high-performance batteries (nickel cadmium or nickel metal hydride batteries), head of shock. The function is high voltage electric shock and strong LED illumination.It is an ideal tool for troops,police,and security department toperform a variety of task. 
Self defensive stun guns uses ABS engineering plastic and alloy metal.It has a high voltage generator and nickle-cadmium storage batteries built-in.It has the most advanced electric pulse technology and many kinds of security assistant settings. Pulse output voltage is higher, but the current moderate, thus for normal person will not result in disability .Its outer layer made of engineering special plastic insulation materials, stick before body side will typically have conductive article, robbed by the other party in case of use.
Function:
high voltage electric shock and LED flashlight illumination. It is an ideal self defense device for military,law enforcement,security guards and civilians due to their extended reach and power. 
Usage and attention: 
1.The stun gun should not be stored in a humid environment and kept in super high/low temperature.It shouldn't be sunned or rained 
2. In order to prolong the life span of usage,please avoid using electric shock function continually for 3 seconds or more. 
3.Do not shock metal objects. 
4.Do not shock children,persons with heart disease and any vital part on human body. 
5.Do not use the unit during charging time. 
6.This device is only allowed to be carried by persons aged 18 and over. 
7.Purchasers must only use the device in lawful manner for self defense. 
Storage:Â 
The stun guns should be stored in dry and cool place. keep away from the reach of children .
 
Fused Silica Plano-concave Cylindrical Lenses,Cylindrical Lenses,cylindrical lens for astigmatism,cylindrical lenses vs Spherical Lenses
Our company can produce a variety of specifications, radius, different base material of flat convex cylindrical mirror, flat concave cylindrical mirror, double convex cylindrical mirror, double concave cylindrical mirror, crescent cylindrical mirror and other ordinary cylindrical mirror.
Special cylindrical mirror can also be processed, such as: achromatic cylindrical mirror, parabolic cylindrical mirror, cylindrical ellipsoid and hyperboloid cylindrical mirror, such as aspheric surface cylindrical mirror and cylindrical mirror group.
Materials: optical glasses such as flint glass, ultraviolet fused quartz and infrared fused quartz, as well as optical crystal materials such as calcium fluoride (CaF2), germanium (Ge), Zinc selenide (ZnSe) and silicon (Si)
Focal length: ±5mm -- ±1000mm±1%(TIROPTICS OPTOMATIC2000 test in Germany)
Length: 2 mm - 300 mm + / - 0.1 mm
Width: 2 mm - 150 mm + / - 0.1 mm
Center thickness tolerance: ±0.2mm
Center deviation: 3-5 points
Surface accuracy: /2
Surface quality: 60/40
Effective diameter: 90%
Plating film: according to customer requirements can be coated
In addition, we have more than a thousand kinds of standard products, and some of the standard products in stock to meet your needs

Fused Silica Plano-concave Cylindrical Lenses
Fused Silica Plano-Concave Cylindrical Lenses,Cylindrical Lens Beam Shaping,Infrared Lens,Cylindrical Lens
Gold Dragon Optics Electronic Technology CO.,Ltd , https://www.golddragon-optics.com